Cream Cheese Amaretto Brownies
by
Everyone loves brownies, so making a good thing even better can be tricky. But this mission is definitely accomplished when you flavor a packaged brownie mix with Amaretto and top it with a divine layer of cream cheese.
If the combination isn't quite good enough, add more chocolate. I've done that here by placing unwrapped milk chocolate bars with almonds over the brownies when they're hot from the oven. Once the chocolate is melted, you can spread it evenly over the top, creating a wonderful icing.
Almond extract can stand in for the Amaretto. Just use two teaspoons in the brownie batter and one teaspoon in the cream cheese mixture. Or, make Kahlua brownies by substituting the coffee-flavored liqueur for the Amaretto.
Brownies
1 19-ounce package chewy fudge brownie mix
2 eggs
1/2 cup vegetable oil
1/4 cup Amaretto or other almond-flavored liqueur
Preheat oven to 350 degrees F. Spray a 9-by-13-inch glass baking dish with nonstick cooking spray. Set aside. Combine brownie mix with eggs, oil and Amaretto and mix until well blended. Spread in the prepared baking dish.
Cream Cheese and Icing
8 ounces cream cheese, softened
3 tablespoons butter, softened
1/2 cup sugar
2 eggs
2 tablespoons flour
1 tablespoon Amaretto or other almond-flavored liqueur
6 1.45-ounce milk chocolate bars with almonds, unwrapped
Place cream cheese, softened butter, sugar, eggs, flour and Amaretto in a large bowl and beat by hand or with an electric mixer until smooth. Pour over brownie layer and bake for 30 to 35 minutes. Remove brownies from oven and top with chocolate bars. When chocolate bars have melted, spread evenly over brownies. Set aside to cool, and store in the refrigerator.
Makes 12 to 16 servings.

Print This Page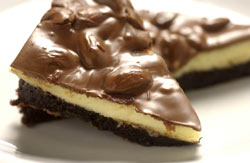 Related Recipe Categories
Desserts

| | |
| --- | --- |
| | Karin Calloway is a working mom living in Augusta, Ga., with multiple freelance jobs and a ton of dirty dishes. |