Jane's Oatmeal Cake
by
Touring one of the U.S. Navy's aircraft carriers is an unforgettable thrill, and at the invitation of Captain Skip Wheeler and his wife Jane, I was able to board the U.S.S. John F. Kennedy several years ago. On my tour I visited kitchens that feed nearly 5,000 crew, hiked up and down stairs too many to count and came away in awe of the naval life at sea.

While visiting the Wheelers in Jacksonville, Florida, Jane served a delicious breakfast cake which I've recreated at home regularly to the delight of my family and friends. I usually serve the cake for an evening dessert, but it is sturdy enough to pack for a picnic or wrap as lunch-box treats.
The recipe can be lightened up by substituting unsweetened applesauce for the shortening, which is the preferred version at my house. Jane baked her cake in a large Bundt pan, but I usually bake mine in two smaller Bundt pans so that I have one small cake for my family and one to take to a friend or neighbor. Just decrease the baking time by about 10 minutes when using the smaller baking pans.
1 cup rolled oats
1 1/4 cups boiling water
1/2 cup shortening or unsweetened applesauce
1 cup brown sugar
1 cup granulated sugar
2 eggs
1 1/2 cups flour
1 teaspoon cinnamon
1 teaspoon baking soda
1 teaspoon vanilla extract
1/2 teaspoon salt
Confectioners sugar, for garnish

Preheat oven to 350 degrees F. Place rolled oats in a bowl and cover with the boiling water and set aside. Cream together in the bowl of a stand mixer the shortening, sugars and eggs. Stir in flour, cinnamon, baking soda, vanilla and salt. Stir in oatmeal and pour into a greased and floured Bund pan. Bake for 45 minutes. Invert onto a cooling rack and sprinkle with powdered sugar.
Makes 1 cake.

Print This Page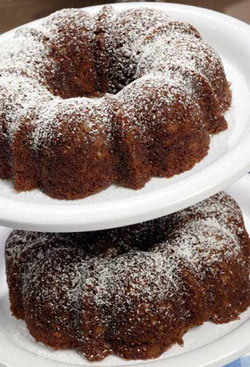 Related Menus
Early Autumn Picnic Menu
Related Recipe Categories
Desserts

| | |
| --- | --- |
| | Karin Calloway is a working mom living in Augusta, Ga., with multiple freelance jobs and a ton of dirty dishes. |