Lemon Squares
by
Lemon squares are the ultimate sweet. They're perfect with tea in the afternoon, make a lovely take-along dessert, and can be served as a pick-up sweet at a cocktail party. One of my favorite things about Lemon Squares is that they're a cinch to prepare. A simple crumb crust is mixed up and pressed into a baking dish and baked until golden. Then, a simple lemon custard is poured over the top and the dish is baked again.
Most recipes for Lemon Squares call for a sprinkling of powdered sugar after baking, but I prefer to spread them with a delicious glaze. The idea for the glaze came when I sampled the best-ever Lemon Squares (in my opinion) at a school function, and they were coated with a luscious glaze of powdered sugar, lemon juice and melted butter. Lemon Squares can be served at casual gatherings, or can be cut into triangles for a more elegant presentation.
2 cups flour
1 cup butter (2 sticks), softened
1/2 cup powdered sugar
4 large eggs
2 teaspoons fresh lemon peel
2 cups granulated sugar
4 tablespoons fresh lemon juice
1 teaspoon baking powder
1/2 teaspoon salt
Preheat oven to 350 degrees F. Combine flour, butter and 1/2 cup powdered sugar and press into the bottom of a 9-by-13-inch baking dish. Bake for 20 minutes. Remove from oven and set aside.
Beat eggs, lemon peel, sugar, lemon juice, baking powder and salt together in a large bowl about 2 minutes, until the mixture is a light lemon color. Pour over crust and bake for 25 minutes.

Glaze
3 cups powdered sugar
3 tablespoons fresh lemon juice
3 tablespoons melted butter or margarine
Combine the ingredients for the glaze in a medium bowl until well blended. Pour over squares and cool. Cut into squares or triangles before serving.
Makes 20 squares.

Print This Page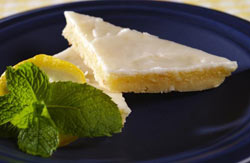 Related Recipe Categories
Desserts

| | |
| --- | --- |
| | Karin Calloway is a working mom living in Augusta, Ga., with multiple freelance jobs and a ton of dirty dishes. |