Pumpkin Praline Cheesecake
by
I was first introduced to pumpkin cheesecake while dining in Atlanta in the 1980s. A lover of both pumpkin pie and cheesecake, I was definitely hooked. Cheesecake is not difficult to prepare. All you need is a strong arm or a good mixer to whip together cream cheese, sugar and eggs. Poured into a graham cracker crust, it's a classic dessert. Cheesecake also is the perfect dessert during the busy holiday season, as it needs to be prepared in, advance, at least one day before serving.
To make a good pumpkin cheesecake, you could simply add some canned pumpkin and pumpkin pie spices to your regular cheesecake recipe and leave it at that. But my version makes a good thing even better. The crust is made with gingersnaps instead of the usual graham crackers. Toasted pecans and brown sugar are mixed into the crust for extra crunch and flavor. The filling includes both white and brown sugar, along with ground cinnamon, nutmeg, ginger and cloves.
You could stop there, but why not take this dessert over the top by adding the optional White Chocolate Cream Cheese Icing, my adaptation of Shirley O. Corriher's White Chocolate Icing For Warmer Conditions, along with some Praline Pecans for garnish?
30 gingersnaps, broken into large chunks (about 2 heaping cups)
1/2 cup chopped pecans
1/4 cup butter (1/2 stick)
3/4 cup brown sugar, in all
24 ounces cream cheese, softened
1/2 cup white sugar
5 eggs
15 ounces canned pumpkin
1 teaspoon ground cinnamon
1/2 teaspoon ground nutmeg
1/4 teaspoon ground ginger
1/4 teaspoon ground cloves
1 teaspoon vanilla
Preheat oven to 300 degrees F. Place gingersnaps in bowl of food processor fitted with metal blade and pulse until coarsely ground. In a small saucepan over medium heat, saute pecans in butter until toasted and golden brown. Add pecans and butter to food processor. Add 1/4 cup of the brown sugar to the food processor and pulse a few times to blend ingredients. Press mixture into the bottom of a 10-inch springform pan and refrigerate while preparing the filling.
Place cream cheese, 1/2 cup brown sugar and white sugar in a large bowl and beat until smooth. Add pumpkin, spices and vanilla to bowl and mix to combine. Add eggs, one at a time, beating after each addition until incorporated. Pour into prepared crust and bake 1 hour and 30 minutes. Remove from oven and let cool at room temperature. Refrigerate overnight before serving or icing with White Chocolate Cream Cheese Icing.
Makes 1 cheesecake.
White Chocolate Cream Cheese Icing
6 ounces good quality white chocolate, coarsely chopped
8 ounces cream cheese, softened
Beat cream cheese until smooth in a food processor or mixing bowl. Melt chocolate in a metal bowl over a pot of simmering water. Remove bowl from pot and wipe bottom dry. Stir with a rubber spatula until all chocolate is melted. Set aside for a few minutes to cool slightly. Beat the melted chocolate into the whipped cream cheese and spread over top and sides of the cheesecake.
Praline Pecans
2 tablespoons butter
2 tablespoons brown sugar
2 teaspoons cream or half and half
2 cups pecan halves
Melt butter in a medium-sized skillet over medium heat. Add brown sugar and cream and bring to a boil. Add pecans, stirring well until well coated in butter mixture. Spread on a baking sheet lined with parchment paper to cool. Use to garnish Praline Pumpkin Cheesecake, toss into salads or serve with cocktails.

Print This Page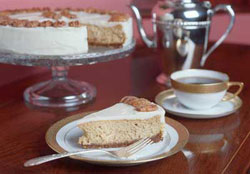 Related Recipe Categories
Desserts

| | |
| --- | --- |
| | Karin Calloway is a working mom living in Augusta, Ga., with multiple freelance jobs and a ton of dirty dishes. |