Touchdown Cookies
by
Ready-to-bake cookies step aside. There's just nothing quite like real homemade cookies, especially when they're packed with coconut, oats, two kinds of chips and two different nuts. These could be called "kitchen sink" cookies, but I've served them at tailgate parties to rave reviews, and they became Touchdown Cookies. Instant espresso gives the cookies a mystery flavor that is subtle enough to be appreciated by young and old.
Employing the convection setting on my Viking range makes cookie baking a snap, since I can bake multiple sheets of cookies at once. With the convection feature, you simple decrease the temperature by 25 degrees, and deduct a minute or two from the baking time.
The cookies can be made into 12 to 14 jumbo cookies and baked for 13 to 15 minutes, or the recipe will make three dozen average cookies. I use an ice cream scoop for the jumbo cookies, or a medium cookie scoop for standard-sized cookies. Any way you bake them, they're sure to disappear quickly!
1/2 pound (2 sticks) unsalted butter
3/4 cup light brown sugar
3/4 cup granulated sugar
2 large eggs
1 tablespoon instant espresso powder
1 tablespoon vanilla extract
2 cups all-purpose flour
1 teaspoon baking powder
1 teaspoon salt
1 cup rolled oats
1 cup shredded coconut
1 cup semi-sweet chocolate chips
1 cup butterscotch chips
1/2 cup coarsely chopped walnuts
1/2 cup coarsely chopped pecans
Preheat oven on convection to 350 degrees F. Cream butter with brown and white sugars until light and fluffy, about 5 minutes, in a stand mixer fitted with a beater blade. Beat in eggs, coffee and vanilla. Combine the flour, baking powder, salt, oats and coconut in a medium bowl. Add to the creamed mixture in 3 additions, beating to incorporate after each addition. Add the chocolate and butterscotch chips and the chopped walnuts and pecans.
Roll the dough into balls (or use a cookie scoop) and place the dough on a Silpat or parchment paper-lined baking sheet, leaving about 2 inches between each cookie. Bake for 10 to 12 minutes for average cookies, 13 to 15 minutes for jumbo cookies, or until lightly browned.
Makes about 13 jumbo cookies or 3 dozen average cookies.

Print This Page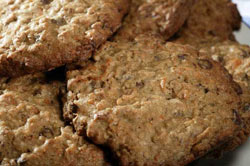 Related Menus
Super Bowl Buffet Supper
Related Recipe Categories
Desserts

| | |
| --- | --- |
| | Karin Calloway is a working mom living in Augusta, Ga., with multiple freelance jobs and a ton of dirty dishes. |