Smith & Wollensky Steak au Poivre
This mouth-watering recipe comes courtesy of Smith & Wollensky, one of America's premier traditional steakhouses.
6 center cut filets mignons (approximately 10 ounces each)
6 tablespoons coarsely ground black peppercorns
1 1/2 tablespoons coarse sea salt
3 tablespoons clarified butter
1/4 cup brandy, of drinkable quality (2 ounces)
1 cup rich veal stock (8 ounces)
1 cup dry red wine, of drinkable quality (8 ounces)
2 tablespoons heavy cream
Salt and freshly ground black pepper, to taste
1/2 stick unsalted butter, cut into chunks (2 ounces or 4 tablespoons)
Remove filets from refrigerator at least 30 minutes before cooking to allow them to come to room temperature. Coat each liberally with coarsely ground black peppercorns and coarse sea salt.
Ladle clarified butter into a very hot, ovenproof skillet. (Do not use a non-stick pan, as you will later deglaze the pan for the au poivre sauce.) Add steaks to the pan and cook on high heat for 3 to 4 minutes on each side, turning only once. If further cooking is desired, place the skillet in a 400 degree F oven until the desired temperature is reached. Hold the filets on a warm plate tented loosely with aluminum foil.
Drain off any excess grease from pan, but do not rinse. Pour brandy into skillet and return to heat. (Important note: Stand back and exercise caution, as the brandy will flame.)
Let the brandy reduce almost to a syrup; add the stock and wine, scraping up any browned bits that have formed on the bottom of the pan (deglaze). Simmer until sauce reduces by one-third. Add heavy cream and continue simmering until sauce reaches the desired consistency, about 3 to 4 minutes; season to taste with salt and pepper.
Strain sauce through a fine mesh strainer, then return to the heat; gently whisk in butter one piece at a time. Serve filets on a pool of sauce.
Adapted from the recipes of Smith & Wollensky's Steakhouse, "A steakhouse to end all arguments." To find out more information, including locations for Smith & Wollensky's visit www.smithandwollensky.com.
Serves 6

Print This Page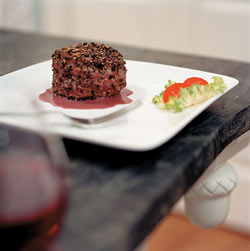 Related Recipe Categories
Main Dishes
Viking Cooking School Recipes