Smoked Tenderloin Heros with Horseradish Mayonnaise
Although sandwiches are usually reserved for lunchtime, this Smoked Tenderloin Hero with Horseradish Mayonnaise is definitely worthy of the dinner hour.
1 pound beef tenderloin
1 1/2 tablespoons roasted garlic oil
Salt and freshly ground black pepper
2 teaspoons oak or other hardwood smoking chips
1/4 small head romaine or other firm, crisp lettuce, julienned
1 tablespoon olive oil
1 teaspoon red wine vinegar
1 French baguette, approximately 20-inches long
6 slices provolone cheese, (approximately 1-ounce each)
1 small red onion, thinly sliced
1 small red ripe tomato, thinly sliced
Horseradish Mayonnaise
1/4 cup mayonnaise
1/4 cup sour cream
1 tablespoon prepared horseradish
1 clove garlic, minced
Freshly ground black pepper
1/4 teaspoon salt
1/2 teaspoon Worcestershire sauce
1 teaspoon Dijon mustard
Preheat oven to 450 degrees F. Brush tenderloin with roasted garlic oil and season liberally with salt and ground pepper. Heat a large sauté pan over medium-high heat. Sear tenderloin on all sides until well browned.
Remove drip tray and food rack from the stovetop smoker. Place 2 teaspoons of wood chips in the bottom of smoker; cover chips with drip tray and food rack. Place seared tenderloin onto rack; place over high heat until wisps of smoke appear. Close lid; reduce heat to medium-high and let smoke for 20 minutes for medium-rare beef. Remove smoker from heat and leave lid closed for 5 minutes. To cook beef beyond medium-rare, remove lid from smoker and place the smoker in a 450 degree F oven until a meat thermometer registers 150 degrees F for medium, 155 degrees F for medium-well and 160 degrees F for well-done beef. Remove and let rest for 10 minutes, then cut into 1\8-inch thick slices.
Toss shredded lettuce with olive oil and red wine vinegar; season it well with salt and pepper. Slice baguette lengthwise, not quite through, so top and bottom remain connected. Combine all ingredients of Horseradish Mayonnaise and stir to mix thoroughly. Lay baguette open and spread Horseradish Mayonnaise evenly over top of inside of the baguette, and cover with sliced provolone. Layer sliced tenderloin, onion, tomato and lettuce on the bottom half of baguette. Close baguette and slice into 6 portions.
Serves 4 to 6.

Print This Page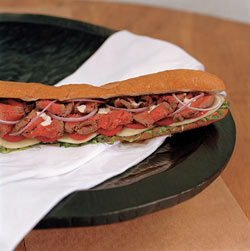 Related Recipe Categories
Main Dishes
Viking Cooking School Recipes