Bread and Butter Pudding
1/4 cup raisins
1/3 cup rum
3 cups of cubed bread, such as challah or brioche, cut into 1-inch cubes and 1/4 cup of melted butter (with extra for greasing)
2 cups butter, unsalted, melted and kept warm
2 cups whole milk
3 large eggs, lightly beaten
1 large egg yolk, lightly beaten
1/3 cup sugar
1/2 teaspoon vanilla extract
1/4 teaspoon cinnamon, ground
Preheat oven to 350°F. Combine raisins with rum and warm in a small saucepan over low heat. Remove from heat and allow raisins to plump for about 10 minutes. Drain and reserve.
Meanwhile, drizzle bread cubes with melted butter, spread on a baking sheet, and toast in the oven, stirring once or twice, until golden brown, 10-12 minutes.
Combine milk, eggs, egg yolk, sugar, vanilla extract, and cinnamon and stir until the sugar has fully dissolved.
Grease a 2-quart shallow casserole, 8-inch square baking dish, or individual 3/4-cup ceramic ramekins with butter and place in a larger rectangular baking dish. Add bread cubes and raisins to the ramekins or dish and ladle milk mixture over bread, reserving about 3/4 cup. Refrigerate bread pudding(s) and reserved milk mixture for about 30 minutes while the bread absorbs the liquid.
Preheat the oven again to 350°F. Spoon remaining custard mixture on top of the soaked bread. Place baking pan containing the ramekins in the oven, and pour hot water into the pan to come two-thirds of the way up the side of the ramekins or dish.
Bake until custard is set but still jiggles in the middle when gently shaken, about 30 minutes for small ramekins and 50 minutes for a larger baking dish. Let stand for 15 minutes after removing it from the oven. The pudding may be served warm or chilled.
Serves 4 to 6

Print This Page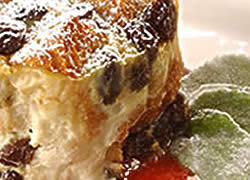 Related Recipe Categories
Desserts
The Culinary Institute of America