Smoking Succulent Baby Back Ribs
Soaking meats in a solution of water or other liquids, salt and sugar leads to incredibly moist cooked meats and poultry. The process, called brining, requires advanced preparation, but is usually worth the wait. Brining these ribs overnight makes them extra moist, but the step can be eliminated if time is short.
Day 1
4 racks baby back ribs, approximately 4 to 6 pounds
4 quarts water
1 cup sea or kosher salt
1 cup brown sugar
Remove membrane from back side of each rack of ribs, pulling with a paper-towel in your hand to maintain a good grip. Combine brine ingredients in an 8-quart stainless steel stock pot or divide 1 quart water, 1/4 cup salt and 1/4 cup sugar in each of 4 heavy-duty 2-gallon zip-top freezer bags (this makes it easy to store the ribs in the refrigerator overnight). Add all four racks of ribs to stock pot or add one rack to each freezer bag. Push ribs down into brine, cover pot or seal bags and refrigerate overnight.
Day 2
1/4 cup freshly ground black pepper
1/4 cup salt
1/4 cup ground paprika
1/4 cup brown sugar
1 handful apple wood or hickory chunks
Water
Apple juice in a spray bottle
Your favorite barbecue sauce, optional
Remove ribs from brine and pat dry with paper towels. Discard brine. Combine black pepper, salt, paprika and brown sugar in a bowl. Sprinkle 1/4 of rub over each rack, coating the front and back side of each rack well. Massage the rub in with your hands. Use wood chunks in grill for extra flavor.
Preheat grill to 200-220ºF. Drain wood chunks and sprinkle a few over the hot coals. Add ribs to the smoker, overlapping slightly. Smoke ribs for 3 to 4 hours, adding additional wood chunks after each hour and spritzing hourly with some of the apple juice. Brush with barbecue sauce, if desired, during the last 15 minutes of cooking.
Makes 4 slabs of baby back ribs, serving 4 to 8 adults

Print This Page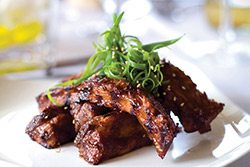 Related Recipe Categories
Main Dishes
C4 Outdoor Cooker Cookbook