Rosemary Orange-Glazed Pork Tenderloin
Cut from the loin, pork tenderloin is one of the leanest meats available - and it's nearly as low in saturated fat as chicken breasts. Typically sold in packages of two each ranging between 3/4and 1 1/2 pounds, they cook quickly either whole or cut into medallions. Many pork products sold in the supermarket today are enhanced or injected with a brine solution. While this keeps the meat moist, it can result in a mushy texture. It also adds salt (and sometimes other seasonings depending on the brine solution) to the dish. Carefully check the label or ask at the meat counter if the pork has been enhanced - if you have an option, purchasing pork that has not been injected gives you greater control over the flavor and texture of the finished dish. Regardless, it's important not to overcook this lean cut or it will dry out. For best results, use an instant-read thermometer, then let the meat rest before slicing. Searing and glazing the tenderloin creates layers of flavor and texture.
Glaze:
2 tablespoons Dijon mustard
3 tablespoons orange marmalade
1 teaspoon finely chopped fresh rosemary
1 tablespoon finely chopped fresh flat-leaf parsley
1/4 teaspoon freshly ground black pepper, or to taste
Pork:
1 (18 to 20-ounce) pork tenderloin
3 tablespoons canola oil, divided
1 teaspoon each kosher salt and freshly ground black pepper, or to taste Fresh rosemary sprigs, for garnish
For the Glaze: Combine all the glaze ingredients in a small mixing bowl. Whisk to combine thoroughly, then set aside until needed.
For the Pork: Preheat the oven to 400°F. Line a baking sheet with aluminum foil. (Note: This makes clean-up easier.) Place a wire rack on the baking sheet and set aside.
Trim the tenderloin, removing all fat and silverskin. Rub with 1 tablespoon of the oil, then season generously with salt and pepper.
Heat a large sauté pan over high heat; add the remaining oil and heat through. Sear the pork on all sides until a dark brown crust forms, about 3 minutes per side.
Transfer the pork to the wire rack. Brush the tenderloin on all sides with the marmalade mixture. (Note: You will use all of the marmalade mixture.) Place in the oven and cook to an internal temperature of 145°F for medium-rare to medium doneness, about 8 to 10 minutes.
Set the tenderloin on a cutting board and tent loosely with aluminum foil; let it rest for about 15 minutes. Slice the rested tenderloin across the grain into 1/4-inch thick slices.
Attractively arranged the sliced tenderloin on a warmed platter or warmed serving plates; pour over any juices that collected on the cutting board. Garnish with fresh rosemary sprigs and serve immediately.
Serves 4


Exclusive recipes provided by Viking Cooking School.

Print This Page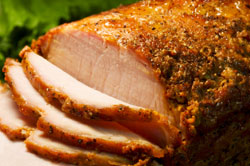 Related Menus
Champagne Brunch

Related Recipe Categories
Main Dishes
Viking Cooking School Recipes
Viking Owner's Exclusives