Celebration Champagne Cocktail
Transform your favorite bubbly into an elegant cocktail with the addition of Grand Marnier, cranberry juice and fresh citrus. This lovely pink drink is appropriate for any special occasion or celebration.
1 fresh cranberry, for garnish (optional)
1 2 1/2-inch strip orange zest, for garnish (optional)
1 1/2 teaspoons orange liqueur (such as Grand Marnier® - about 1/4 ounce)
1 splash sweetened cranberry juice, chilled
3/4 tablespoon freshly squeezed lime juice (about 1/2 lime)
1/2 cup champagne (or sparkling wine - about 4 ounces), chilled
Skewer 1 fresh cranberry with a strip of orange zest. Place in a champagne flute. Pour the orange liqueur, cranberry juice and lime juice into the flute. Pour the champagne (or sparkling wine) into the glass, and serve immediately.
Tips and Techniques
Make It Ahead: Assemble the garnish hours ahead of time. Place on a plate, cover with plastic wrap, and refrigerate. Just before your guests arrive, place a garnish in each glass, then add the juices and Grand Marnier. As each guest arrives, pour chilled champagne into their glass, and serve immediately. The champagne must never be poured ahead of time, or it will become flat.
One (750 ml) bottle of champagne will yield 5 to 6 cocktails.
Makes 1 cocktail


Exclusive recipes provided by Viking Cooking School.

Print This Page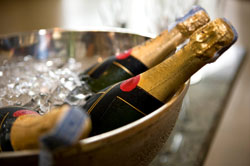 Related Menus
Champagne Cocktail Party

Champagne Brunch

Related Recipe Categories
Beverages
Viking Cooking School Recipes
Viking Owner's Exclusives