Mini Berry Crumb Cakes with Streusel Topping
These mini crumb cakes are fluffy little buttery bites of cinnamon, nuts and berries. They are perfect for serving at any breakfast, brunch or afternoon tea. Just pick your favorite combination of topping and berry - almond streusel topping with raspberry crumb cakes are divine - or try pecans in the topping with blueberry cakes. Delicious!
Streusel Topping
1/3 cup chopped pecans (or almonds)
3 tablespoons unsalted butter, cut into small cubes and chilled
3 (packed) tablespoons light brown sugar
3 tablespoons all-purpose flour
1/2 teaspoon ground cinnamon
1/8 teaspoon fine salt
In the work bowl of a mini-food processor, pulse the pecans (or almonds) until chopped; add the butter, brown sugar, flour, cinnamon and salt, and process until the ingredients are well blended and the mixture is crumbly. Transfer the topping to a small bowl, and set aside until needed.
Cakes
Vegetable oil cooking spray, for oiling muffin pans
1/2 stick unsalted butter (4 tablespoons), brought to room temperature
1/2 cup granulated sugar
1 large egg, lightly beaten
1/2 cup plain yogurt (not low-fat or nonfat)
1 cup all-purpose flour
1/2 teaspoon baking soda
1/2 teaspoon baking powder
1/4 teaspoon fine salt
1/2 teaspoon ground cinnamon
24 fresh blueberries or raspberries
Confectioners' sugar, for garnish (optional)
Preheat the oven to 375 degrees F. Spray muffin pans with vegetable oil cooking spray. In an electric stand mixer fitted with the paddle attachment, cream butter and sugar until light and fluffy. Add egg and yogurt, and continue beating until well combined.
In a medium mixing bowl, sift together flour, baking soda, baking powder, salt and cinnamon to combine. Add flour mixture to butter mixture on low speed just to combine. (Note: Do not over-work the batter, or the cakes will be tough.)
Using a pastry bag fitted with a large plain tip, pipe mixture into mini-muffin pans, filling each cup about half-full. Place 1 berry in each cup, pressing gently to submerge the berry in the batter as much as possible without touching the bottom. Sprinkle generously with the streusel topping, being careful not to spill the topping over the edges of the muffins.
Bake until golden and springy, about 8 to 10 minutes. Un-mold while warm, dust with confectioners' sugar (if desired), and serve warm or at room temperature
Tips and Techniques
Make It Ahead: The cakes can be baked up to one day in advance and stored in an airtight container.
Makes 2 dozen
Exclusive recipes provided by Viking Cooking School.

Print This Page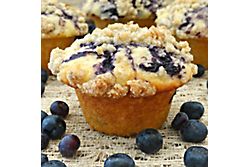 Related Menus
Champagne Brunch

Related Recipe Categories
Desserts
Viking Cooking School Recipes
Viking Owner's Exclusives