Pumpkin Seed Praline Brittle
Canola oil, as needed
1 cup granulated sugar
1/2 cup water
1 pinch fine salt
1 cup hulled pumpkin seeds (pepitas),* toasted
Preheat oven to 400 degrees F. Line a baking sheet with aluminum foil; brush lightly with oil, and place in the oven.
Combine sugar, water and salt in a deep, 2-quart, heavy-bottomed sauce pan over medium-low heat. Stir slowly with a fork just until sugar melts, then cook, without stirring, until deep golden brown, about 5 minutes.
Immediately stir in pumpkin seeds, then quickly pour onto the hot, oiled aluminum foil, spreading into a thin sheet before it hardens. (Note: If the caramel hardens and is difficult to spread, place in a 400ºF oven until warm enough to spread, about 1 to 2 minutes.)
Remove pan from oven, and place on a wire rack to cool completely; when completely cool and hardened, break the brittle into large pieces.
Tips and Techniques
* Pepitas are pumpkin seeds used often in Mexican cooking; they are available for purchase at specialty and/or ethnic markets or online at myspicer.com. If you prefer, you may toast and hull the pumpkin seeds yourself (see previous recipe).
Serving Suggestion: Delicious served as candy, but also great for garnishing cheesecakes, brownies or flan.
Serves 8 to 10
Exclusive recipes provided by Viking Cooking School.

Print This Page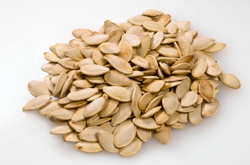 Related Menus
The Great Pumpkin

Related Recipe Categories
Desserts
Viking Cooking School Recipes
Viking Owner's Exclusives