Fresh Cranberry Relish
The rich jewel- toned color and tart flavor of fresh cranberries make them a welcome accompaniment to any number of dishes. Paired with fresh tangerines and a splash of Grand Marnier, they are simply delicious. Be sure to use the whole tangerine, including the skin, for bold flavor and texture.
1 1/2 cups fresh or frozen (and thawed) whole cranberries, rinsed and drained
1 small tangerine or Clementine, skin intact, cut into 1-inch pieces, seeds removed
1/3 cup granulated sugar, or to taste
2 teaspoons Grand Marnier (or other orange-flavored liqueur)
1/4 cup chopped toasted walnuts*
2 tablespoons finely chopped green onion, green and white parts (about 1 green onion)
Place the cranberries and tangerine (or Clementine) pieces in the bowl of a food processor fitted with the metal blade. Pulse until the fruits are evenly and finely chopped; do not puree.
Transfer the chopped fruit to a medium mixing bowl; stir in the sugar, Grand Marnier, walnuts and green onions. Allow the relish to sit at room temperature for 30 minutes before serving to allow the flavors to fully develop.
Tips and Techniques
* To Toast Nuts: To intensify the flavor of nuts, toast them before adding to your dish. To toast in the oven, spread the nuts in a single layer on a baking sheet. Place in a 350°F oven and toast, shaking the pan occasionally, until they are light golden brown. To toast on the stovetop, place the nuts in a dry sauté pan large enough to accommodate them in a single layer. Place over medium heat and cook, stirring frequently, until they begin to color. Remove from the heat, then immediately remove from the hot pan to stop the browning process.
Makes 1 1/2 to 2 cups


Exclusive recipes provided by Viking Cooking School.

Print This Page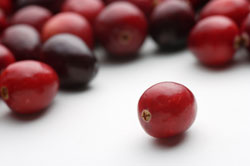 Related Menus
Holiday Dinner Party

Related Recipe Categories
Vegetables and Sides
Viking Cooking School Recipes
Viking Owner's Exclusives