Hurricane Cocktails
Just about everyone who has been to New Orleans for Mardi Gras has visited Pat O'Brien's French Quarter bar. The signature cocktail there is the Hurricane - a potent rum punch served in a special hurricane lamp glass. It was created during World War II when whiskey was scarce but rum was readily available, and it was an instant hit. Just remember, it's sweet, fruity and goes down really easily - so beware - the rum will sneak up on you!
1 1/2 cups unsweetened pineapple juice
1 cup freshly squeezed orange juice (about 3 oranges)
1 cup pomegranate juice (such as POM Wonderful®)
1/4 cup plus 2 tablespoons freshly squeezed lemon juice (about 2 lemons)
1/4 cup plus 2 tablespoons freshly squeezed lime juice (about 4 limes)
1/2 cup grenadine
1/2 cup simple syrup*
1 1/2 cups light rum
2 tablespoons dark rum
1/4 cup Triple Sec
6 orange wheels, for garnish
6 maraschino cherries, for garnish
Special Equipment:
6 tall rocks glasses
In a blender, combine all of the ingredients except the garnishes; blend until frothy. (Note: You will need to do this in batches.)
Fill 6 rocks glasses with ice, then add the Hurricane mixture. Garnish each glass with an orange wheel and a cherry, and serve immediately.
Tips and Techniques
* To make 1 pint of simple syrup, boil 1 cup of sugar and 1 cup of water in a small sauce pan over medium-high heat; cook until the sugar dissolves. Remove the pan from the heat, and cool to room temperature. Place in the refrigerator to chill thoroughly before serving. Store, tightly covered, in the
refrigerator for up to 2 weeks.
Serves 6


Exclusive recipes provided by Viking Cooking School.

Print This Page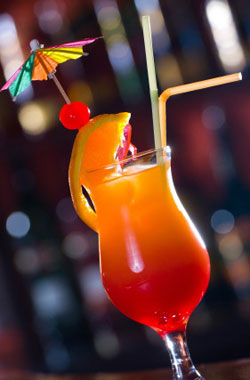 Related Menus
French Quarter Feast

Related Recipe Categories
Beverages
Viking Cooking School Recipes
Viking Owner's Exclusives