Banana Smoothie
A smoothie is a quick and easy beverage made by blending fruit with yogurt or milk until it's thick and smooth. Using a banana in this recipe makes this smoothie extra creamy. Garnish with a fresh, ripe strawberry to add an extra boost of color to your smoothie – and nutrients to your day.
1 ripe banana
1/2 fresh lemon
1 tablespoon granulated sugar
1/2 cup plain yogurt (low-fat is fine)
3/4 cup whole milk
1 fresh, ripe strawberry for garnish (optional)
Special equipment:
Peel the banana and cut it into chunks using a paring knife or bench scraper. Place the chunks in a blender.
Use a citrus juicer to squeeze the lemon juice into the blender.
Add the sugar, yogurt and milk to the blender.
Put the lid on the blender, and blend until the mixture is thick and creamy, about 30 seconds.
Pour into a cup, garnish if you prefer, and serve immediately.
Serves 1

Print This Page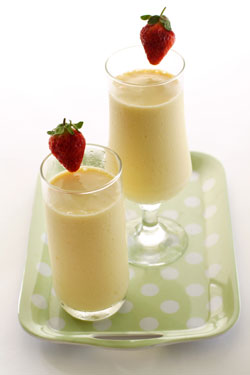 Related Recipe Categories
Beverages
Viking Cooking School Recipes