Coconut-Mango Mousse
by
Fresh, ripe mangoes are the perfect finale at a Thai-inspired meal. But you can turn those perfect mangos into something a little more special by turning them into a mousse.
This mousse could also be called a panna cotta because the coconut milk, ripe mango and sour cream are congealed in softened unflavored gelatin. The result that is delicious and light.
Coconut-Mango Mousse
3/4 cup coconut milk
1 packet unflavored gelatin (or 2 teaspoons)
1 1/2 cups diced ripe mango or 1 1/2 cups frozen diced mango, defrosted
1/2 cup reduced-fat sour cream
1/3 cup sugar
1 teaspoon coconut extract
Small cubes of fresh mango and mint sprigs, for garnish
Put 1/4 cup of the coconut milk in a small saucepan and sprinkle the gelatin over. Let stand 5 minutes. Heat at low-medium heat until the gelatin dissolves (do not allow to boil). Remove from the heat and let cool.
Combine the mango, 1/2 cup coconut milk, sour cream, sugar, and coconut extract in a blender. Purée until smooth. Add the gelatin mixture and blend again. Divide mixture among 6 individual gelatin molds or wax-lined paper cups. Cover with plastic and chill at least 1 hour before serving. To serve, unmold the mousses or cut the paper cup away and invert the mousse onto chilled dessert plates. Garnish with the mango and mint.
Makes 6 servings.

Print This Page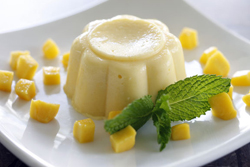 Related Menus
Casual Thai
Related Recipe Categories
Desserts

| | |
| --- | --- |
| | Karin Calloway is a working mom living in Augusta, Ga., with multiple freelance jobs and a ton of dirty dishes. |