Chicken Saute with Onions, Garlic and Basil
4 (6-ounce) bone-in skinless chicken breasts
Salt and freshly ground black pepper, to taste
All-purpose flour, for dredging
2 to 3 tablespoons clarified butter (recipe follows)
1/4 cup diced white or yellow onion
1 tablespoon minced garlic
3/4 cup dry white wine, of drinkable quality
1 tablespoon freshly squeezed lemon juice
1 1/2 cups tomato concassé, (peeled, seeded, diced tomato)
1 cup chicken stock
6 basil leaves, chiffonade
Debone chicken breast halves*. Pound chicken to achieve an even layer and to promote even cooking. Season with salt and pepper; dredge in flour.
Heat a large sauté pan over medium-high heat. Add clarified butter and heat through. Sauté breasts in the butter, browning them on both sides. Remove breasts from pan and hold in a warm place.
Add onions to the pan and sauté until translucent. Add garlic and sauté for 1 minute. Deglaze pan with white wine and lemon juice, scraping up any browned bits from the bottom of the pan. Add tomato concassé and chicken stock. Simmer to combine the flavors; reduce the sauce to the desired consistency. Add basil to the sauce and return the chicken breasts for reheating. Adjust seasonings and serve chicken breasts with a portion of the sauce.
*Deboning a chicken breast: Place chicken on a cutting board. Using a boning knife, trim away any excess fat. Turn breast over, meat side down and bone side up. Using the tip of the boning knife, make a thin incision between the ribs and the meat of the breast. Follow the contours of the rib cage with the tip of the knife. Continue making small cuts until the meat has completely separated from the bone. Save the bones for stock if desired. Separate the tenderloin from the breast meat. Lay the tenderloin on your work surface; grasp the tip of the tendon and while holding it down, scrape against the tendon with the boning knife until it detaches from the flesh.
Serves 4

Print This Page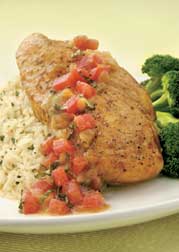 Related Recipe Categories
Main Dishes
Viking Cooking School Recipes