Individual Raspberry-Almond Clafoutis
by
Clafouti is a classic French dessert that is quite simple to prepare. Traditional clafouti is a thick, pancake batter-like custard baked in a pie plate with fruit, usually cherries. Being a bit obsessed with the pretty presentation of individual desserts, I toyed with the classic recipe, serving each guest their own little clafouti. I also flavored the batter with orange juice and orange zest and added ground almonds and fresh raspberries for a lively dessert that is quite simple to prepare.
The clafoutis can be served in the ramekins they're baked in, or they can be turned out of the ramekins and served on dinner plates with a scoop of vanilla ice cream and a drizzle of prepared raspberry sauce.
1 cup slivered almonds, toasted
1 1/2 cups granulated sugar
3 large eggs
1 cup all-purpose flour
1/4 cup orange juice
1 tablespoon grated orange zest
1 cup unsalted butter (2 sticks)
2 pints fresh raspberries, divided
Vanilla ice cream
Prepared raspberry dessert sauce
Preheat oven to 350 degrees F. Finely grind almonds in processor. Transfer almonds to large bowl. Add sugar, eggs, flour, orange juice and orange peel and whisk to blend well.
Melt butter in heavy medium saucepan over medium heat; cook until butter browns, stirring frequently, about 4 minutes. Whisk hot browned butter into almond batter until well blended. Divide batter equally among six 1 1/4-cup custard cups (batter will fill cups halfway). Drop 8 raspberries into batter in each cup. Place on a baking sheet and bake until golden brown and set in center, about 40 minutes. Cool 15 minutes.
Top each clafouti with a scoop of ice cream, drizzle with the raspberry sauce and garnish with any remaining raspberries.
Makes 6 servings.

Print This Page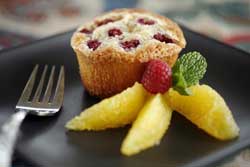 Related Menus
French Accent
Related Recipe Categories
Desserts

| | |
| --- | --- |
| | Karin Calloway is a working mom living in Augusta, Ga., with multiple freelance jobs and a ton of dirty dishes. |