Candied Ginger-Mascarpone Ice Cream
by
Homemade ice cream is an inexpensive luxury, and an easy one. In this recipe, we use lots of fresh cream, not milk, which makes a dense and satisfying mixture. The key to great flavor is using whole vanilla beans and the ginger.
If you are lucky enough to be choosing among vanilla beans from around the world, here's a quick flavor guide: Mexican beans are creamy, with spicy overtones. Madagascar beans are even creamier, but Indonesian ones have a sweet, woody flavor. Tahitian vanilla is very fruity, with a strong flavor of ripe cherries. Most extracts are made by blending the four into the basic vanilla flavor we recognize; whole beans have more individuality. The mascarpone adds a little tang and richness which cools the ginger's heat perfectly.
2 cups half-and-half
2 cups heavy cream
1/2 vanilla bean, split lengthwise
9 egg yolks
3/4 cup sugar
1 cup mascarpone
1/2 cup crystallized ginger, chopped (store bought or homemade)
In a saucepan over medium heat, heat half-and-half, cream, and vanilla, stirring occasionally to make sure the mixture doesn't burn or stick to the bottom of the pan. When cream mixture reaches a fast simmer, turn off the heat and let sit 10 minutes to infuse the flavor.
Meanwhile, whisk together egg yolks and sugar. In a thin stream, whisk cream mixture into egg yolk mixture. Pour egg-cream mixture back into saucepan and heat over medium heat, stirring constantly with a wooden spoon.
At 160 degrees, the mixture will give off a puff of steam. When the mixture reaches 180 degrees it will be thickened and creamy, like eggnog. If you don't have a thermometer, test it by dipping a wooden spoon into the mixture. Run your finger down the back of the spoon. If the stripe remains clear, the mixture is ready; if the edges blur, the mixture is not quite thick enough yet. When it is ready, quickly remove it from the heat and whisk in the mascarpone.
Meanwhile, put two handfuls of ice cubes in a bowl and add cold water to cover. Rest a smaller bowl in the ice water. Pour cream mixture through a fine sieve or chinois (to remove the vanilla bean pieces) and into the smaller bowl.
Chill until cool, about 1 hour, and stir in the crystallized ginger. Continue according to the directions of your ice cream maker to freeze.
Preparation time: 30 minutes
Cooking time: 10 minutes
Ease of preparation: moderate
Makes 1 quart

Print This Page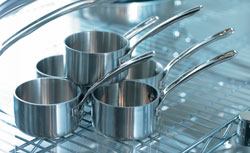 Related Recipe Categories
Desserts

Gale Gand is the executive pastry chef at Cenitare Restaurants. Outside her culinary endeavors, Gale is an established author publishing six books with her most recent book, "

Chocolate and Vanilla

," published in October 2006.