Fried Chicken Breasts with Honey Pecan Sauce
by
Fried Chicken is about as Southern of a tradition as there is. But this favorite can cause serious debate between families. Some only fry their chicken in a cast iron skillet, while others deep-fat fry their chicken. Some soak their chicken in buttermilk before dredging in seasoned flour, while others deem the step unnecessary and go straight to the flour.
This version could cause some debate as well, since boneless, skinless chicken breast halves are used in place of traditional bone-in chicken pieces. And, I prefer to soak my chicken in buttermilk seasoned with some Tabasco overnight. It's a step I feel ensures extra-juicy chicken.
However you like to prepare the chicken for frying, nothing can beat crisp fried chicken topped with this luscious Honey Pecan Sauce. This simple combination of honey, chopped pecans, Creole mustard and a shot of Tabasco makes the chicken a stand-out.
2 cups buttermilk
5-6 dashes Tabasco sauce
8 boneless, skinless chicken breast halves
1 1/2 cups flour
1 teaspoon salt
1 teaspoon freshly ground black pepper
1/2 teaspoon cayenne pepper
Vegetable oil for frying
Place buttermilk in a large zip-top plastic bag. Add Tabasco and squeeze to combine. Add chicken breasts, seal the bag and refrigerate for several hours or overnight.
Drain chicken pieces and discard marinade. Combine flour, salt, pepper and cayenne in a zip-top or paper bag and shake to combine. Add chicken breasts, one at a time, shaking to coat well before adding another chicken breast. Set aside.
Heat 3 inches of oil to 350-375 degrees in a Dutch oven. Add several of the chicken breasts, being careful not to crowd them. Fry on one side for several minutes, until golden. Turn and fry on the other side. Remove one chicken breast from the oil and place on a paper towel-lined platter. Insert an instant-read thermometer and if the temperature reads 170 degrees, remove the chicken breasts to the platter to drain and continue with the remaining breasts. If not, return to the oil and fry for a few minutes more, checking a breast for temperature until 170 degrees is reached. (Can keep warm in a 200-degree oven for 10 to 15 minutes.)
Honey Pecan Sauce
1 1/2 cups pecan pieces
12 ounces honey
3/4 cup Creole mustard
2 teaspoons Tabasco sauce
Combine all ingredients in a saucepan and heat through. Place the chicken breasts on dinner plates and drizzle with sauce.
Makes 8 servings.

Print This Page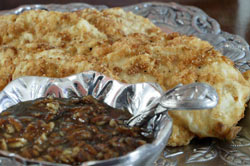 Related Menus
Southern Traditions
Related Recipe Categories
Main Dishes

| | |
| --- | --- |
| | Karin Calloway is a working mom living in Augusta, Ga., with multiple freelance jobs and a ton of dirty dishes. |