Grilled Vegetable Panini
After a week of preparing family meals, my vegetable bin often contains an assortment of vegetables. There may be one zucchini, one yellow squash and a carrot or two. Rather than turn these leftover fresh vegetables into a stir-fry side dish, this Grilled Vegetable Panini lets them take center stage.

Paninis are grilled Italian sandwiches, and my Viking-top grill lets me prepare my Panini inside, out of the Georgia heat and humidity. I developed this recipe after sampling a grilled vegetable sandwich in a restaurant, which fell short of my expectations.

A mandoline or v-slicer will save you time at the cutting board, while allowing you to slice your vegetables into uniform 1/8-inch-thick strips. Using canned roasted red peppers also decreases cooking time, as fresh red bell peppers take about 8 minutes per side to grill.


4 tablespoons mayonnaise
2 teaspoons tarragon vinegar
1/2 teaspoon dried tarragon
1 large carrot, peeled and sliced lengthwise into 1/8-inch strips
1 small zucchini, sliced into 1/8-inch strips
1 medium summer squash, sliced into 1/8-inch strips
1 small red onion, peeled and sliced
1/4 cup olive oil
1/4 cup tarragon vinegar
Salt and pepper
4 1-inch chick slices French bread
Olive oil
Canned roasted red bell peppers, drained and patted dry with paper towels
4 slices fresh tomato
2 lettuce leaves

Combine mayonnaise, 2 teaspoons tarragon vinegar and dried tarragon in a small bowl. Cover and refrigerate.
Preheat rangetop grill on high for 5 minutes. Meanwhile, place vegetables in a zip-top plastic bag or large baking dish, season with salt and pepper and drizzle with the 1/4 cup of olive oil and 1/4 cup of tarragon vinegar. When grill is preheated, reduce heat to medium. Place vegetables on grill and cook 5 minutes per side. Reduce grill heat to medium-low.

Brush French bread slices with olive oil and grill 2 minutes per side, until golden brown. Spread each slice of bread with the tarragon mayonnaise, then top with the vegetables.

Makes 2 sandwiches.

Print This Page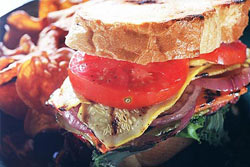 Related Recipe Categories
Main Dishes