Amaretto Chocolate Sauce
by
Viking ranges and cooktops offer a unique simmer setting which allows me to simmer soups unattended for hours, or to melt chocolate without the use of a double boiler. To put my Viking through the test, I threw the ingredients for this Amaretto Chocolate Sauce into a saucepan, set the flame on simmer and let it simmer away for 10 minutes. When I was ready to whisk in the Amaretto, the chocolate and butter were completely melted, and not a bit of chocolate was burnt on the bottom of the saucepan.

The Amaretto Chocolate Sauce makes a great hostess gift during holiday party season, and can literally be whipped up in minutes. Preparation is a breeze if you use semisweet chocolate chips instead of the chopped chocolate traditionally called for in chocolate sauces. When the sauce is done, simply pour it into a decorative crock and tie with a festive bow.

The Amaretto liqueur gives the chocolate a luscious almond flavor. If you'd rather not cook with alcohol, simply substitute 1 teaspoon almond extract for the Amaretto. The sauce is delicious spooned over ice cream, and is even better when topping off ice cream-filled cream puffs for decadent Profiteroles aux Chocolate.
 

1 cup whipping cream
1/2 cup granulated sugar
6 ounces semisweet chocolate chips
2 tablespoons butter
2 tablespoons Amaretto liqueur

Place cream, sugar, chocolate and butter in a medium saucepan. Simmer on the "simmer" setting for 10 to 15 minutes, until chocolate and butter are melted. Stir well, then whisk in the Amaretto. Serve warm, or refrigerate until ready to use. Reheat by placing in a double boiler over simmering water or by submerging storage container in warm water before using.

Makes approximately 2 cups of sauce.

Print This Page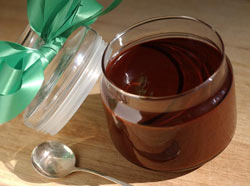 Related Recipe Categories
Desserts

| | |
| --- | --- |
| | Karin Calloway is a working mom living in Augusta, Ga., with multiple freelance jobs and a ton of dirty dishes. |