Frozen Strawberry Margarita Pie
by
Frozen pies are the perfect, cool way to end a summer meal, and they're a boon for busy cooks since they must be made in advance. My Frozen Strawberry Margarita Pie is the perfect finale to a Southwestern menu, and can be whipped up in a snap in your Viking Food Processor.
The filling gets its strawberry flavor from packaged frozen strawberries in syrup. You can find these in the frozen fruit section of your supermarket, and can use regular or "lite" strawberries in the recipe. Tequila makes this a "margarita" pie, but you can substitute Grand Marnier or Contreau in its place. Fresh orange zest and lime juice give the pie a hint of citrus flavor.
Remove the pie from the freezer 10 to 15 minutes before cutting, and garnish each serving with a dollop of whipped cream, a fresh strawberry and a slice of orange.
Crust
1 1/2 cups thin salted pretzel sticks
1/2 cup sugar
1/2 cup (1 stick) butter, melted
Pulse pretzel sticks in the bowl of a food processor fitted with a metal blade until coarsely chopped. Add sugar and melted butter and pulse until well combined. Press into the bottom of a 9-inch springform pan and set aside while you make the filling
Filling
1 10-ounce package frozen strawberries in syrup, undrained
1 8-ounce package cream cheese, softened and cut into 1-inch pieces
1 14-ounce can sweetened condensed milk
Juice of 1/2 lime (about 1 tablespoon)
1 tablespoon tequila
Zest of 1/2 orange, about 1 tablespoon
1 cup whipping cream
Puree strawberries and their juices in a food processor fitted with a metal blade. Add cream cheese and pulse until smooth. Add condensed milk, lime juice, tequila and orange zest and pulse until combined. Pour into a large bowl and set aside.
Whip the cream to stiff peaks in the bowl of a stand mixer fitted with a whisk attachment or in a large mixing bowl with a hand mixer. Fold 1/3 of the whipped cream into the strawberry mixture. Fold in the remaining whipped cream and pour over the prepared pretzel crust. Freeze for 4 to 6 hours or overnight.
Makes 10 to 12 servings

Print This Page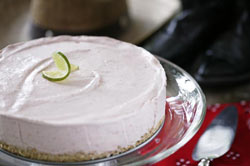 Related Menus
Sophisticated Southwestern
Related Recipe Categories
Desserts

| | |
| --- | --- |
| | Karin Calloway is a working mom living in Augusta, Ga., with multiple freelance jobs and a ton of dirty dishes. |