Nectarine-Custard Tart
I love the fruits of summer, the peaches, plums, and my favorite of all – the nectarines. My Nectarine-Custard Tart combines two delicious pies into one great dessert. Rather than serve a straightforward nectarine pie or tart, I've added a custard that's reminiscent of my Grandmother's Cream and Sugar Pie.
A simple crumb crust is combined in the food processor, then is patted and formed in a 9-inch springform pan. Peeled, pitted and halved nectarines are layered over the crust, and are topped with a simple custard of eggs, whipping cream, sugar and cinnamon. Feel free to substitute your favorite summer fruits, or try the tart with pears or apples this fall.
Crust
2 cups flour
1/2 teaspoon salt
1 egg
3 tablespoons sugar
1/2 cup butter or margarine, softened
Combine ingredients in a food processor and pulse until well combined. Press into the bottom of a 9-inch springform pan and set aside.
Tart
5 fresh nectarines, peeled, pitted and cut in half
1 cup whipping cream
2 eggs
1/2 cup granulated sugar
1/2 teaspoon ground cinnamon
Preheat oven to 375 degrees F. Place nectarine halves over the bottom of the tart crust. Combine whipping cream, eggs, sugar and cinnamon in a small bowl and pour over nectarines. Bake for 50 minutes to 1 hour, until custard is firm. Serve warm, or refrigerate the tart and serve it chilled.
Makes 8 servings.

Print This Page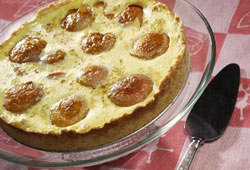 Related Recipe Categories
Desserts