Tropical Tempura Tidbits
by
Japanese tempura is usually associated with crisp batter-coated vegetables, shrimp and chicken, but the concept is delicious when the items battered and fruit. I first sampled tempura-style bananas at a Vietnamese restaurant in New York City, and it makes a nice finale to my Hawaiian Barbecue menu or any Asian menu.
The tempura batter is a snap prepare. Three ingredients – an egg, water and flour – are all you need. The only secret is using ice water, and I even drop a few pieces of ice right into the batter, ensuring it stays cold.
Drizzling the hot tidbits with honey and sprinkling with sesame seeds and flaked coconut make this a special treat. Serve the tidbits as a pick-up dessert at a party by placing pieces on the end of long bamboo skewers. The tidbits are also delicious dusted with confectioners' sugar immediately after frying.
Peanut or vegetable oil for deep frying
1 large egg, lightly beaten
1 cup ice water
1 cup all-purpose flour, plus 1 cup additional flour for dredging the fruit
3 bananas
2 cups fresh pineapple chunks (about ½ fresh peeled and cored pineapple)
1/2 cup honey
Sesame seeds and shredded coconut, for garnish
Heat oil in a Dutch oven over medium-high heat to 375 degrees F. Combine egg, ice water and 1 cup flour in a medium bowl, beating until frothy. Place about 1 cup of remaining flour in a pie plate or shallow baking dish.
Cut bananas into 1-inch pieces and toss banana and pineapple pieces in the flour to coat. Shake off any excess flour and place about 10 pieces of the coated fruit into the tempura batter, turning to coat well. Carefully place in the hot oil and fry until golden, about 2 minutes, turning as they cook. Remove from oil and drain on paper towels. Repeat with remaining fruit and batter.
When all fruit are cooked, place on a serving dish and drizzle with honey. Sprinkle with sesame seeds and shredded coconut, if desired.
Makes 20-24 pieces.

Print This Page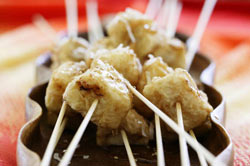 Related Menus
Hawaiian Barbecue
Related Recipe Categories
Desserts

| | |
| --- | --- |
| | Karin Calloway is a working mom living in Augusta, Ga., with multiple freelance jobs and a ton of dirty dishes. |