Cranberry-Apple Chutney
3 tablespoons canola oil
1 small white or yellow onion, finely diced
1 to 2 cloves garlic, minced
3/4 teaspoon crushed red pepper flakes, or to taste
1 (12-ounce) bag fresh or frozen cranberries
1 teaspoon salt, or to taste
1 teaspoon freshly ground black pepper, or to taste
2 medium red apples, cored, unpeeled, cut into bite-size pieces
3 tablespoons freshly squeezed lime juice (about 2 limes)
1 tablespoon finely minced lime zest (about 2 limes)
2 (packed) cups light brown sugar
2 teaspoons dry mustard
Heat a medium sauce pan over medium heat; add oil and heat through. Stir in onions, and cook until tender and translucent, about 5 to 8 minutes; add garlic and crushed red pepper flakes, and cook 30 seconds more. Add cranberries, salt and pepper, and cook until cranberries are almost tender, about 5 minutes. Add apple, lime juice, lime zest, brown sugar and dry mustard; simmer until mixture is thick and saucy and the cranberries have burst, about 10 minutes more.
Taste, and adjust the seasoning as needed with salt, pepper and crushed red pepper flakes. Cool to room temperature before serving.
Tips and Techniques
Make It Ahead: Prepare the chutney up to 1 week in advance. Cool completely, then store, tightly covered, in the refrigerator.
Makes about 3 cups
Exclusive recipes provided by Viking Cooking School.

Print This Page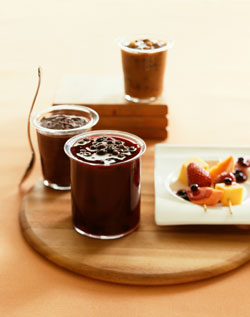 Related Menus
The Great Pumpkin

Related Recipe Categories
Sauces, Spreads, and Spices
Viking Cooking School Recipes
Viking Owner's Exclusives