Almond Pound Cake
Old Fashioned pound cake is even better with a hint of almond extract- it accentuates the natural buttery flavor while adding depth and richness. For perfectly moist pound cake, be sure to have all ingredients at room temperature before mixing, and don't over-mix! This lovely golden cake makes a wonderful dessert or snack and may be sliced and toasted for a deliciously decadent breakfast treat.
Vegetable oil spray
3 large whole eggs, brought to room temperature*
3 large egg yolks, brought to room temperature*
2 teaspoons vanilla extract
1 teaspoon almond extract
1 1/2 cups cake flour (7 ounces)
1/2 teaspoon fine salt
2 sticks unsalted butter (16 tablespoons), brought to room temperature
1 1/3 cups granulated sugar (10 1/2 ounces)
9x5x3-inch loaf pan (standard loaf pan)
Preheat oven to 325 degrees F. Spray loaf pan with vegetable oil spray; set aside. Mix eggs, egg yolk, vanilla and almond extract in a measuring cup with a pouring spout; set aside. Sift flour and salt together and set aside.
Place butter in the work bowl of an electric stand mixer fitted with the paddle attachment; beat at medium-high speed for about 20 seconds. Add sugar all at once, and continue beating until mixture is light, fluffy, and almost white, about 4 minutes. Do not over-beat; the mixture should not be wet in appearance.
With the mixer on medium speed, slowly add the flour and egg mixtures. Alternate between the two, beginning and ending with the flour. Add the mixtures slowly, allowing each to incorporate before adding the next addition. Do not over-mix; if necessary, remove the bowl from the mixer and finish folding in the last addition of the flour by hand using a large spatula.
Scrape batter into prepared pan. Smooth top with a small offset spatula or the back of a spoon. Bake until top is golden brown and a cake tester or pick inserted into the center comes out clean, about 65 to 70 minutes.
Remove from oven and place on a cooling rack. Let cool 10 minutes in the pan, then unmold and continue cooling.
Tips and Techniques
* Whisk the eggs and egg yolks together in a glass measuring cup, then set the measuring cup in a mixing bowl filled with very warm water. Use an instant-read thermometer to test the temperature of the eggs; 70°F is optimum.
Makes 1 loaf


Exclusive recipes provided by Viking Cooking School.

Print This Page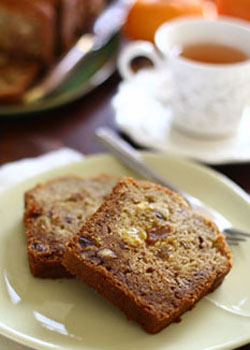 Related Menus
Holiday Dinner Party

Related Recipe Categories
Desserts
Viking Cooking School Recipes
Viking Owner's Exclusives