Banana-Coconut Custard
by
It is often difficult to come up with an appropriate dessert for an Asian-inspired meal, but look no further than this not-too-sweet Banana-Coconut Custard. The custard takes little work and bakes up quickly in a water bath. A drizzling of warm chocolate sauce adds a Western touch.
2 eggs
1 14.5-ounce can coconut milk
1/4 cup sugar
1/4 teaspoon salt
2 teaspoons vanilla
1 cup grated sweetened coconut
2 medium ripe bananas, peeled and thinly sliced
Warm chocolate sauce, for serving

Preheat oven to 325 degrees F. Spray a 9-inch round cake pan with nonstick cooking spray and set aside. Beat eggs slightly. Whisk in the coconut milk, sugar, salt and vanilla. Stir in the coconut and the bananas. Pour into the prepared cake pan.
Prepare a water bath by placing a large rectangular baking dish on the middle rack of the oven and filling with 1-inch of boiling water. Place the cake pan in the water and bake 30-45 minutes, until center is only slightly jiggly. Place servings of the custard on dessert cups and drizzle with the warm chocolate sauce before serving. (The custard can be served warm or cold.)
Makes 8 servings.

Print This Page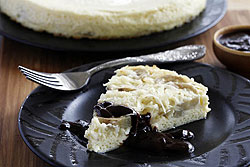 Related Menus
East-West Dinner Party
Related Recipe Categories
Desserts

| | |
| --- | --- |
| | Karin Calloway is a working mom living in Augusta, Ga., with multiple freelance jobs and a ton of dirty dishes. |