Brined and Grilled Pork Chops with Chipotle Glaze
Brining adds flavor and moisture to these lean chops - it's the prefect way to get them ready to grill. The chops are finished off with a thick brushing of Chipotle Glaze, adding a huge amount of spicy, sweet and smoky flavor.
Pork Chops


1/4 (packed) cup light brown sugar
1/4 cup kosher salt
1-3/4 cups boiling water
2 cups apple cider, divided
6 cloves garlic, lightly crushed
3 bay leaves (preferably Turkish)
1/2 teaspoon dried thyme
2 tablespoon whole black peppercorns, crushed
4 (8-ounce) pork rib chops
1 tablespoon extra-virgin olive oil, plus extra for oiling grill
Freshly ground black pepper, to taste
Dissolve brown sugar and salt in boiling water. Add cider, and stir to combine. Make a spice sachet** with the garlic, bay leaves, thyme and peppercorns. Add sachet to cider mixture, and cool to room temperature.
Add pork chops to room temperature brine, and refrigerate for 1 hour.
Glaze


1/2 cup freshly squeezed orange juice (about 1-½ oranges)
1 teaspoon finely grated orange zest
1/4 cup honey
2 tablespoons soy sauce
1 chipotle chile in adobo sauce,* chopped
2 tablespoons adobo sauce*
Combine orange juice, zest, honey, soy sauce, chipotle chile and adobo sauce in a small sauce pan. Place over medium-high heat, and cook until sauce has thickened and reduced by half, about 5 to 8 minutes.
To Grill
Take pork chops out of brine, and dry really well with paper towels. Throw away brine and spice sachet. Preheat grill to medium-high. Clean grates with a stiff brush, then oil liberally to prevent sticking. (Note: To use a grill pan, preheat a lightly oiled grill pan to medium-high heat.)
Brush pork chops with oil, then generously season both sides with pepper. Place each pork chop onto the hot, oiled grill, and cook for about 2 to 3 minutes. Without turning, rotate chops 90 degrees, and continue cooking until meat is seared and crusty on the outside, about 2 minutes more. This will produce beautiful cross-hatch grill marks. Flip chops over, then thickly brush with glaze. Repeat grilling process for second side. Cook chops to an internal temperature of 145°F (medium-well). (Note: The chops will continue to cook a bit further after removing from the grill.)
Transfer pork chops to a warm platter. Let the meat rest, loosely tented with aluminum foil, for about 5 minutes before serving.
* Canned chipotles in adobo sauce can generally be found at ethnic and/or specialty markets or in the international section of many grocery stores. If unable to locate in your area, purchase online at
ethnicgrocer.com
.
** To make the sachet, cut a 6 to 8-inch double-folded square of cheesecloth. Rinse it under cool running water, then squeeze it dry. Place the herbs and garlic in the middle of the cheesecloth square, and draw up all four corners; tie securely with kitchen twine.
Yields: 4 servings

Print This Page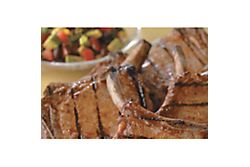 Related Menus
Fun Summer Recipes for Kids
Related Recipe Categories
All
NOT TVL
Main Dishes
The Viking Life
Viking Cooking School Recipes