Chocolate Chip and Dried Cherry Oatmeal Cookies
Oatmeal cookies, an all-American favorite, get an extra boost of flavor from chocolate chips and dried cherries. In addition to tasting great, the chocolate and cherries are good for you! Dark chocolate promotes heart health, lowers blood pressure, and improves blood flow. And sweet tart dried cherries are bursting with antioxidants. What a great bonus! Just remember to enjoy them in moderation.
1 cup all-purpose flour
1/4 teaspoon baking powder
1/2 teaspoon baking soda
1/4 teaspoon fine salt
1/2 stick unsalted butter (4 tablespoons), brought to room temperature
1/4 cup canola oil
1/2 (packed) cup light brown sugar
1/2 cup granulated sugar
1 large egg
3/4 teaspoons vanilla extract
1 cup rolled oats
1/2 cup dark chocolate chips (at least 60% cacao)
1/4 cup dried cherries, roughly chopped
Position two racks in center of oven. Preheat oven to 350°F. Line two baking sheets with parchment paper. Combine flour, baking powder, baking soda, and salt into a large mixing bowl; whisk to mix evenly, and set aside.
Put butter, oil, brown sugar, and granulated sugar in the bowl of a stand mixer. Fit it with the paddle attachment. Mix on low speed for 30 seconds, then increase speed to high. Keep mixing on high speed until it looks light and fluffy, about 5 minutes. This is called "creaming." While you are creaming the butter and sugars, stop the mixer two or three times to scrape down the sides of the bowl with a rubber spatula.
With the motor running on low speed, add the egg and vanilla. Increase the speed to medium, and beat until evenly mixed. When the ingredients are mixed together well, reduce speed to low, and carefully add 1/3 of the flour mixture. When flour is mixed into dough, carefully add another 1/3 of the flour. Continue mixing on low speed to combine. Add the rest of the flour, and mix together well. Turn off the motor, and add the oats, chocolate chips, and dried cherries. Mix on low speed just to combine.
Using a small ice cream scoop, scoop out about 1 tablespoon of cookie dough for each cookie. Put them on the parchment paper, spacing them about 2-inches apart. Bake cookies in preheated oven until edges are just beginning to brown, about 12- 15 minutes. (Note: Only edges will be beginning to brown - the rest of the cookie will still be pale.) Carefully remove cookies from oven. Let cool on a cooling rack.
Yields: 2 dozen cookies

Print This Page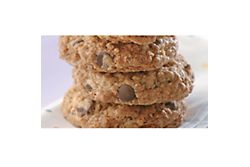 Related Menus
Fun Summer Recipes for Kids
Related Recipe Categories
All
NOT TVL
The Viking Life
Desserts
Viking Cooking School Recipes